When your company, small business or organization needs to sear its brand into the minds of the public,
Stretch Structures
has the custom branded promotional products that deliver in a big way!Our one-stop event, exhibition and promotion solutions allow you to get both a custom color for your stretch tent, inflatable structure, stretch event architecture or inflatable furniture—as well as a high-quality, screen printed logo or message of your choice, all in one friendly and dependable location.Sounds good, right? But wait until you
SEE
what we can do! Keep reading below to see how companies all over the world are already using our durable, 100% waterproof stretch structures to grab attention and successfully market their brands.
Custom Branded Freeform Fabric Stretch Tents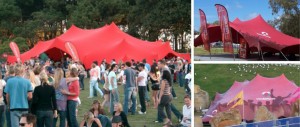 Above is one of our freeform stretch fabric tents that was custom made for Vodaphone Australia. You will notice the red color, which Vodaphone is known for, and you can see their screen printed logo in the smaller pictures to the right. What you may not have noticed, though, is the shadow of the partying people on the top of the tent. If you look closely, you can see that they are not actually real people inside the tent, but instead cleverly screen-printed outlines of people.
Custom Branded Promotional Inflatable Cubes And Inflatable Structures
For crowd-drawing fun that can be easily set up in just minutes, our custom branded inflatable cubes and structures never disappoint. Below you can see the inflatable shell structure we created for the ANZ SKA (square kilometer Array) project, complete with a full-colour screen-printed logo.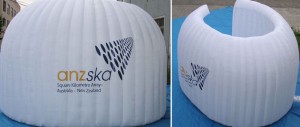 Then, we have the fully branded, portable, inflatable structure we created for Toyota, which can easily be illuminated from the front or back for supersized, anytime, anywhere advertising on the go.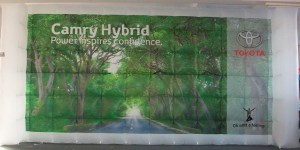 And one of our all-time favorites (which you may have already noticed if you have been reading our newsletters for any length of time) is the Jagermeister inflatable cube… Do these guys know how to throw a party, or what?
Custom Branded Inflatable Lights
Below you will see just a small sample of what we can do with a branded inflatable light. We can also do stars, flowers, cubes, and just about any other shape you can imagine. These branded inflatable lights can be suspended from the ceiling or stand on the ground to make a big statement anywhere.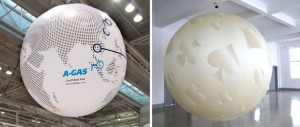 Custom Branded Axion Sealed Inflatable Marquees And Inflatable Furniture
And last, but certainly not least, we have our custom branded Axion sealed inflatable marquees and inflatable furniture. A mouthful to say, but the easiest setup you can imagine, these inflatable structures and accessories inflate in minutes and stay inflated without a noisy air pump, which make them great for both indoors and out. The best part is that they are C-O-O-L!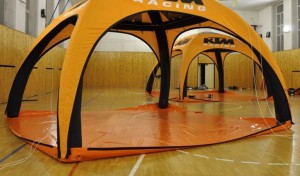 Above is our sealed inflatable marquee, which comes in several different sizes and a PVC floor option. Notice the high-profile KTM Racing Logo on the custom-dyed stretch fabric.Below are some modern semi-circular inflatable benches we custom designed and manufactured for Nescafe.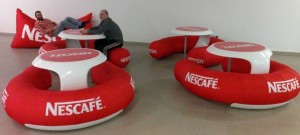 And last, but not least, a variety of custom-branded furniture including a desk, a podium and two stools, complete with the Stretch Structures logo and custom colors.Want to see more? We've got hundreds of ideas for you in our
gallery
and on each of our separate
product pages
. And if we don't have what you have in mind, we'll work with you to bring it to life…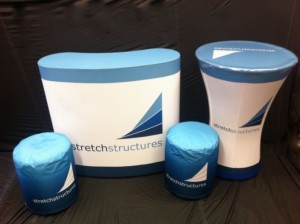 Come on over and visit us at
https://www.stretchstructures.com/index.asp
today!