Burnt Orange Stretch Tent adds atmosphere to 50th celebration
It has been a challenge in 2020 to throw a party and celebrate milestone events. So a client came up with a novel solution. They invited friends to their rural property in Yarramalong to celebrate a 50th birthday party which incorporated social distancing. Stretch Tent Rentals in Newcastle were called to provide both cover and extra atmosphere for the weekend.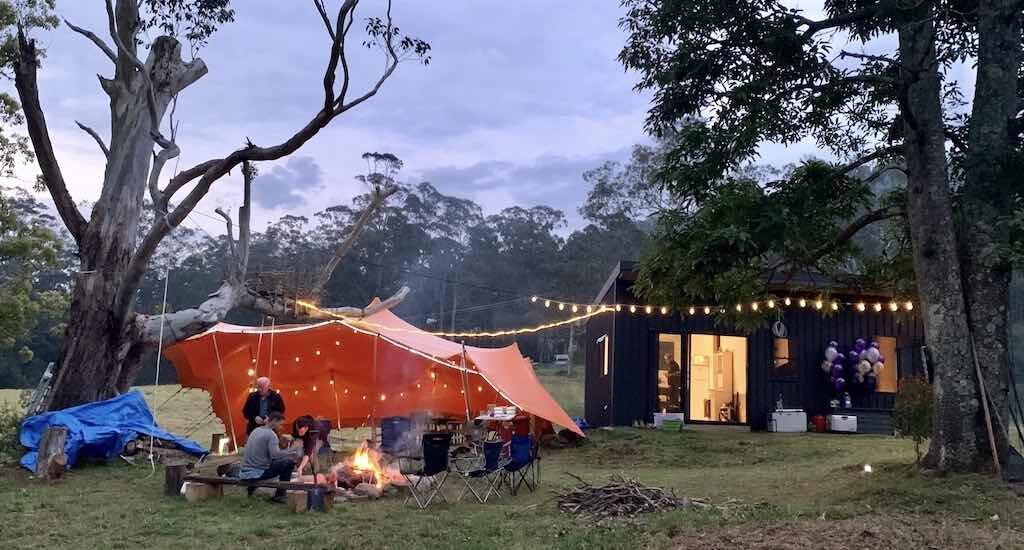 The weather forecast indicated a mixed bag of sun and rain for the weekend. So the Stretch Tent Rental team setup the tent with two sides down to protect guests from the rain and wind that was to come.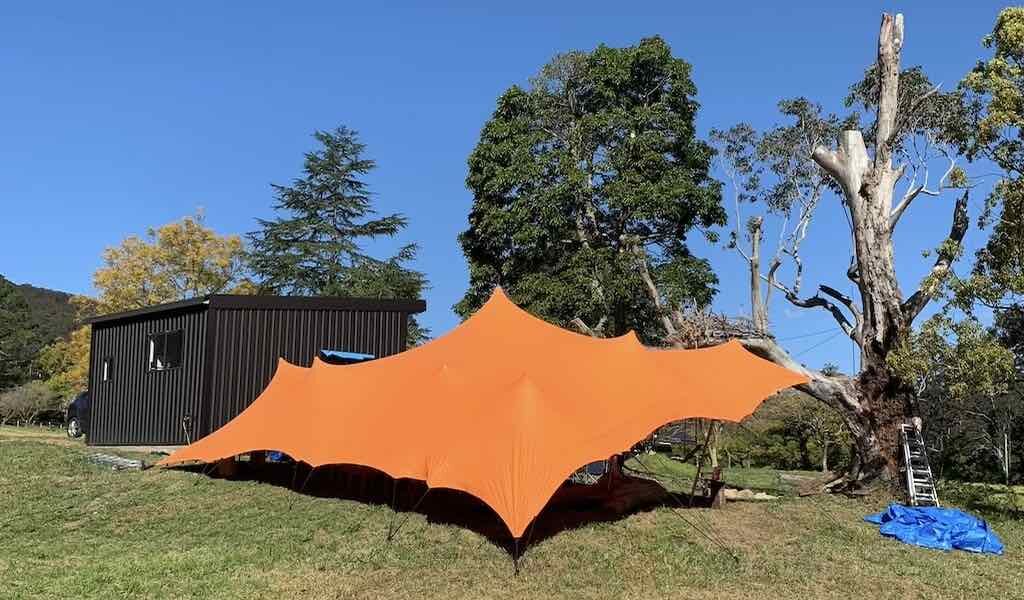 To get the stretch tent as close as possible to the owners cabin, the team also tied off one side of the tent to the gorgeous tree on the right. This ensured that electrical points were nearby and didn't require cables on the ground during wet weather.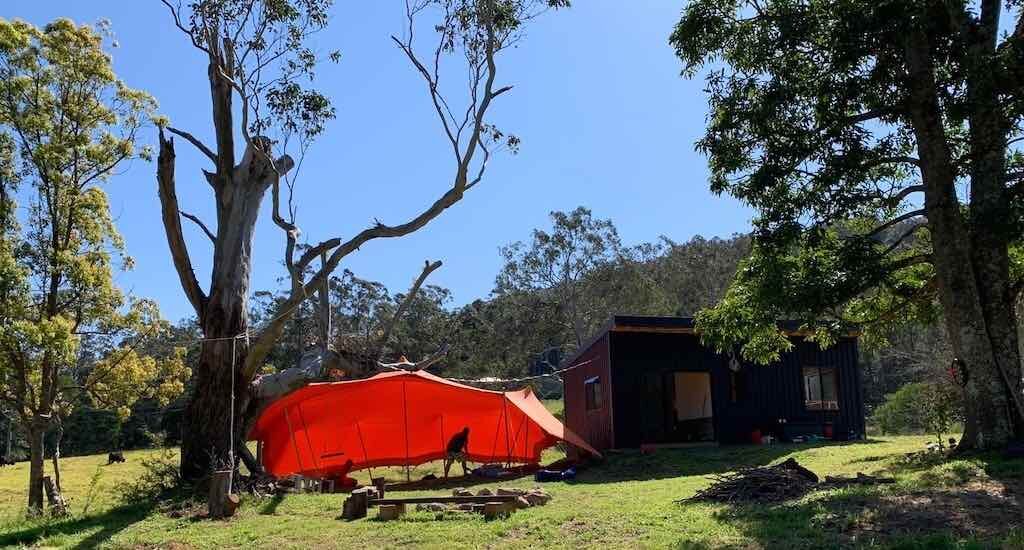 All the guests could feel comfortable gathering in a safe outdoor space. We think the burnt orange looks spectacular against the green fields and cute black cabin in the wild.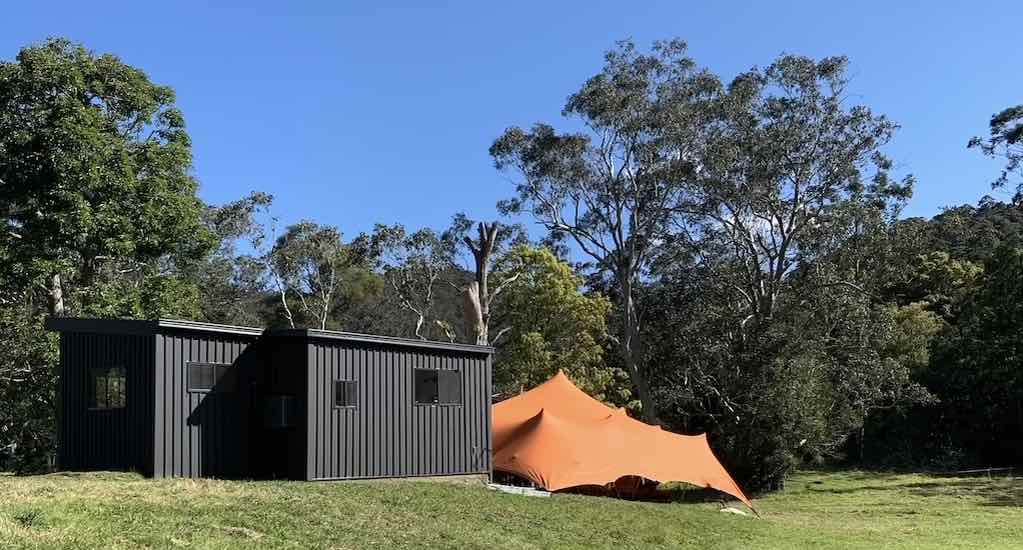 The birthday girl had this to say about her celebration; "The stretch tent rental was a life saver! The party continued under the tent on Friday night during two huge rain storms with plenty of room for everyone."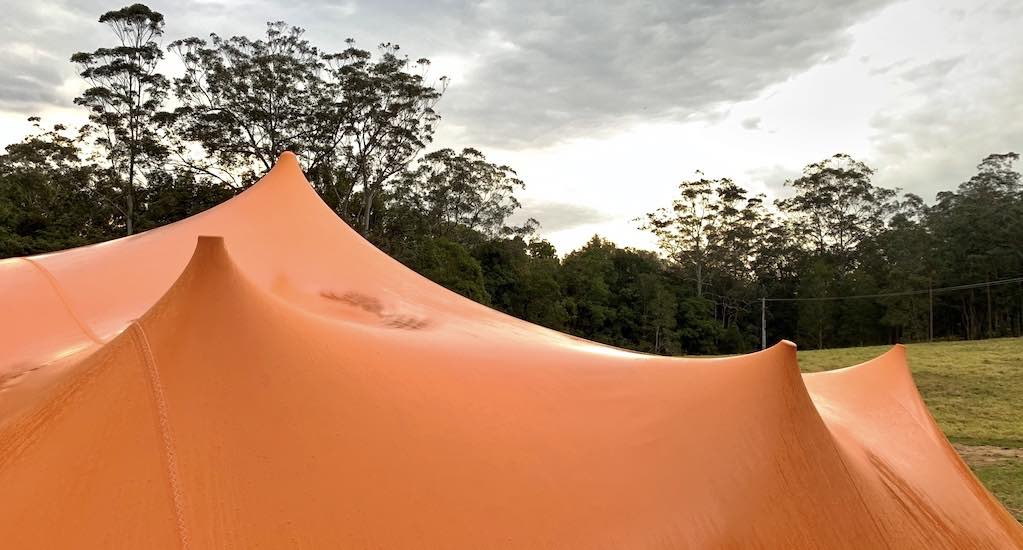 "It also provided a beautiful gathering point for all our guests for meals and drinks over the whole weekend. The festoon lights added so much atmosphere at night, and eating breakfast with a sunlight filtered hew of colour was just fabulous."
Guests rented a variety of camper vans for the weekend away. This provided plenty of fun comparing the vans and also ensured that each family had their own toilet and sleeping facilities.
If you are planning a wedding or private party and need temporary outdoor cover Contact Stretch Tent Rentals and have a chat about rental options. And for an example of stretch tents installed on a grander scale, check out the Grafton Jacaranda Festivals whopping 450m2 event space.
Or Contact Stretch Structures if you would like to discuss your requirements regarding purchasing Stretch Tents, or email us at info@stretchstructures.com.
All images courtesy of Stretch Tent Rentals (Facebook @stretchtentrentals)