It's amazing how trends evolve over the years. Just when you think every last inspirational idea has been thought up, along comes something new and, without question – beautiful, ready for you to take and make your own. We've picked a few of our favourite styles that are trending in 2016 – we think you'll find them quite inspirational.Going Green –For the folks in the northern hemisphere at the cusp of a new season. Spring time in itself is an inspirational time of year. That wonderful feeling of living in a fresh new season – what a relief after those long winter months. So why not take inspiration from those gorgeous new leaves gently unfolding – go for green! Recreate that whimsical Shakespearean atmosphere by incorporating fern fronds, crisp apple greens, undulating hanging ivy and fresh mint tones. Bridesmaids will rock any shade of green, from emerald to pistachio, seafoam to olive. Some brides push the creative boundary by writing guest name tags on waxy green leaves (choose magnolia shrub, lemon or lime tree leaves) and incorporate wooden rounds along with their beautiful green arrangements. Think about pairing these complimentary tones that go well with green:  golds, greys, marigold yellow, cream or white.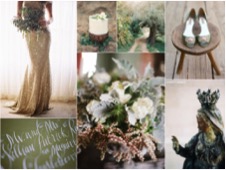 photocredit: burnettsboards.com
What Stretch Structures can offer you: Did you say Pistachio green? Or was it moss? No, rather basil or juniper… what ever your green colour tone, we can produce a structure or piece of event architecture in that colour…. no problem.Vintage –Blame it on Downton Abbey but the whole vintage vibe is back with gay-abandon. Kick up your heels with a Charleston fling or dapper it up like some of those Bright Young Things from the 1920's. They were bold (for their day), they were daring and they were beautiful. Think long pearl necklaces, an abundance of silk and satin, art deco geometric lines and over-the-top embellished sequin fabric. Their crimped, high gloss locks were perfectly in place, bee-sting lips in blood-red tones and smokey eyes added to the overall drama of the era. Boys can wear boaters or bow-ties, girls fascinators for frivolous effect. This theme if fun for all!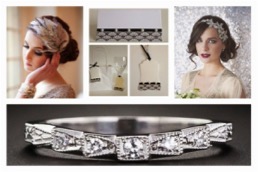 photocredit: stampedbyjayne.blogspot.com
What Stretch Structures can offer you: if it's the 1920's, can you picture the perfect garden-party marquee? Well, we can provide it… no problem.Boho Chic –'Peace and love, peace and love.' 1960's inspired Age of Aquarius.Think kaleidoscopic jewel colours to celebrated your day of love. If this is the theme that appeals to you, the best thing to do is: keep it real, keep it down to earth. Bare feet, tons of layered, light, translucent fabrics, chill out zones with jumbo scatter cushions for guests to recline – ideally, it's outdoor all the way so choose your time of year carefully. Rich silky colours can be used for decor incorporated with that essential touch of flower power: daisy chains, wild flowers, loose dog roses or even sunflowers. Brides go bright and grooms wear bells-bottom jeans – John Lennon style sunglasses optional.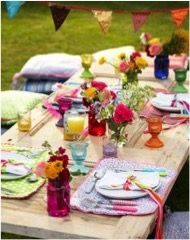 photocredit: pinterest.com
What Stretch Structures can offer you: If it's vibrant colour youre looking for then we're your dream come true. We can print any colour under the sun to compliment your colour theme – no problem….Secret garden –Think Midsummer Nights Dream – a chance to indulge your fantasies… this theme is by far the most romantic, the epitomy of all things feminine, floral and frivolous. Floating wedding dresses in layers of chiffon and gorgeous empire lines. Create the secret garden of delight with lots of mood lighting (string lights in warm, yellow tones), moss, creeping ivy and ferns from the forest can all be incorporated into the decor while bridemaides can be flocked out in etherial shifts with floral crowns. Oh the fun of it all!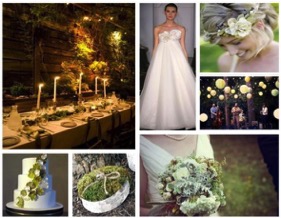 Photocredit: Weddingbee.com
What Stretch Structures can offer you: we pride ourselves on our frivolous lighting options. Thinking of unusual ways to really make your wedding a fantasty wonderland – look no further than our lighting and event architecture. No problem!Grayscale –It may not sound like the most romantic of colour themes, but all tones that fall into the grayscale colour zone can actually make the most beautiful impact for a wedding. It's automatically a very elegant and tasteful theme and it lends itself to a minimalist decor palette too. Off-white, dove-grey, silver, ice-blue, pewter: these are all colours that fall into the grayscale. Subtle hints of a variety of these tones can be introduced in the cake, table decor and bridesmaids dresses. The cake can be alternating layers of  white, dove-grey, silver and pewter. Add crystal embelishments to bridesmaid ice-blue dresses. Table decor can consist mainly of crisp whites with add-ins of greyscale napkins, name tags, silverware and paper-thin grey poppies in the table arrangements.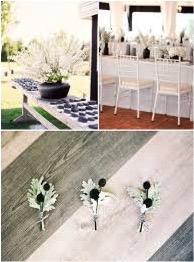 photocredit: blog.heylook.fi
What Stretch Structures can offer you: We not only have a selection of marquee and tent flooring available in all grayscale tones which will further deliver your colour theme, we also have amazing metallic coatings for our stretch fabric so you can really wow your crowd. No problem!As a final note, we hope we have provided you with some inspirational wedding ideas. Needless to say, in this day and age, it is our earth-bound responsibility to make as little environmental impact as possible. Reduce, reuse, recycle. Minimize your carbon-footprint and use local and sustainable as much as possible.