It's our responsibility to keep up with the times, if we're not improving, we're not moving!
With a structural concept like the AXION line of products, we are duty bound to not only improve the technical side of these pneumatic tents but also the physiological side of the structure: the performance of the fabric that the tents are made from.
We feel safe in the knowledge that the AXION is in tip-top performance shape – done. It's the fabric quality that we've turned our attention to… in the past, we've been dissatisfied with how hard it worked. Dye sublimation printing didn't provide the desired effect on tents with white interior so age-old screen printing method was used – unfortunately, screen printing isn't scratch proof. So, we decided to look to a new quality fabric that wears print well, in all colours with a choice of either a white or black underside. The weave of this fabric is super-fine and carries better mechanical properties than its predecessor.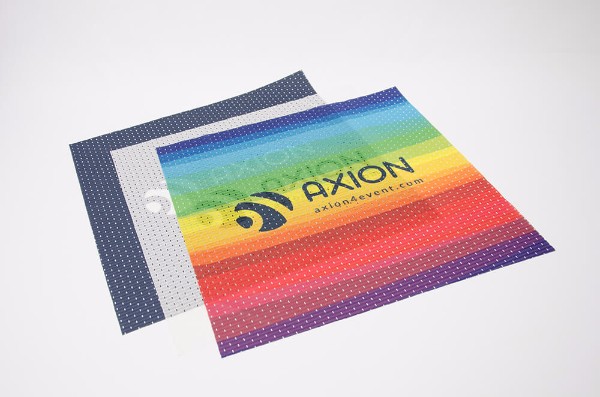 Then, we needed to look at the side walls. Our busiest time is over the summer months and it can get hot! We found that our clients needed to unzip their side walls to maximize ventilation and cool themselves down. This was a problem because side walls are valued assets: they are not only aesthetically pleasing but serve as the perfect surface for branding and  advertising – unzipping them means the message is diluted. We found a light knitted, perforated polyester fabric – normally used in sports dressers and barrier banners. We discovered that this fabric not only carried print effect well but also allowed air to pass through and (bonus) it helps big tents survive strong winds.
So, as we stand here today, we are proud to be able to offer you two outstanding finishes: a streamlined superior structure made from premium performance fabric.
For more details on our AXION range visit here