Do you want to create an event or would you rather create an experience! With the right ambience, you can ensure your guests have an experience to remember.  The mood, feeling, and character of a place can be set by carefully planning your event with Stretch Structures.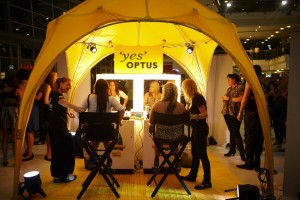 A great way to think about the planning and ambience of your event is to think of the five senses. You want guests to experience your event through what they SEE, HEAR, FEEL, TASTE, and TOUCH.Our Stretch Structures are the best way to set the mood and give your guests that instant feeling of elegance and grandeur. The minute your guests step out of the car or through the structure, your guests will see a well put together event that sets the mood from the very beginning.Think about the mood you'd like to create with your event. Do you want it to be intimate or expansive? Lively or quiet? Classic or cutting edge? Once you determine the mood, we can begin to find the Stretch Structure products that will best match your vision.Here's how two very different looks can be created with Stretch Structures that will give your guests the ambience you choose and an experience they won't soon forget.
Classic and intimate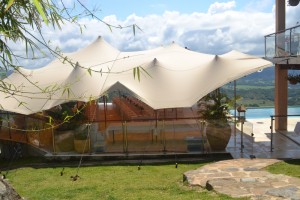 Choose black and white structures and details
Start with a large white stretch freeform tent or choose several smaller tents to create various areas and give guests the ability to find a quiet, smaller space
Create smaller spaces with accent lights and inflatable structures
Maintain the classic feel with our lights in basic shapes and styles such as circles, squares, and triangles
Use white lights or pick one other soft color as an accent
Use our inflatable structures and projection capabilities to draw attention to a special area or to add a nightsky full of stars
A classic and intimate experience should be kept simple, but that doesn't mean it has to be plain. You want your guests to feel the classic mood by giving them beautiful surroundings that don't overwhelm them with colors and details.
Lively and cutting edge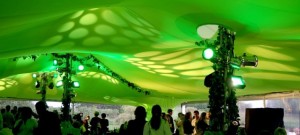 Use structures in colors that are on trend. Baby blue and brown is a hot wedding combination, while bright reds can add a contemporary vibe.
Using one big tent will allow you to keep an open feel and have guests feeling like the life of the party regardless of where they are in the room
Custom designing our inflatable structures ensures your event will be like no other
Use the inflatable furniture to add a fun feel to the event and give your guests space to sit without taking away from the open feeling you've created
Get fun and funky with our wild styles of inflatable lights. Choose from an array of flowers, starbursts, or other shapes you won't find anywhere else.
Get colorful with your lights. Find colors that compliment your chosen trend and don't be afraid to try multiple ones.
A lively and cutting edge event should include details that make your guests go "WOW!" You want to keep their interest and excitement high as they move throughout your event. Give them the details they never thought of!Special themes can also easily be accommodated and created. Imagine what your guests would say after a night with Alice in Wonderland or a flashback to the 80's! This is the beauty of working with Stretch Structures –customizing structures and accents to help you create the ambience you envision.Once the mood is set, the rest of your event can easily fall into place. You can create a catering menu to match the mood and give your guests an experience through their taste buds. And don't forget the DJ or band to keep your guests senses abuzz.Ambience is all about the experience and it is critical to having an event your guests will remember. Contact
StretchStructures
TODAY and allow us to help you set the mood and get your party started.