Line-X Puts Best Foot Forward using an Axion Exhibit
Line-X Australia wanted an outdoor exhibit that would put them a step above their competitors. After discussing their options with Stretch Structures they chose
 the AXION Square with branding, visors and side walls. The structure turned heads at their latest show, the Perth 4WD and Adventure Show, and made a positive impact in bold black, which made their yellow Line-X logo pop.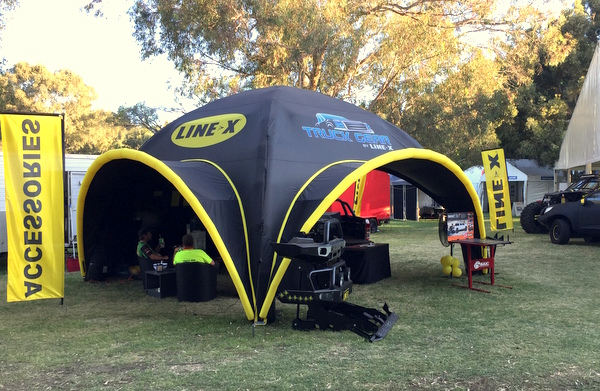 Line-X, an Australian-based company, provide protection for your vehicle with the toughest and most durable bed-liners on the market. The product is sprayed on and is designed to meet the needs of all truck owners: farmer, hunter, contractor or weekend adventurer.
David Newton, Retail and Franchise Operator @ Line-X Astralia, was extremely happy with the results: 'The show went really well, and a huge part of that was the Axion Display. I could confidently say that this one event would have covered the initial outlay. Not necessarily from profit alone, but the other factors such as Brand Image (not only to our customers but also to other exhibitors at the show), and exposure and the work that will flow on from the connections made. Our display really put us a step above our competitors and confirmed our position in the market as the #1 spray on liner.'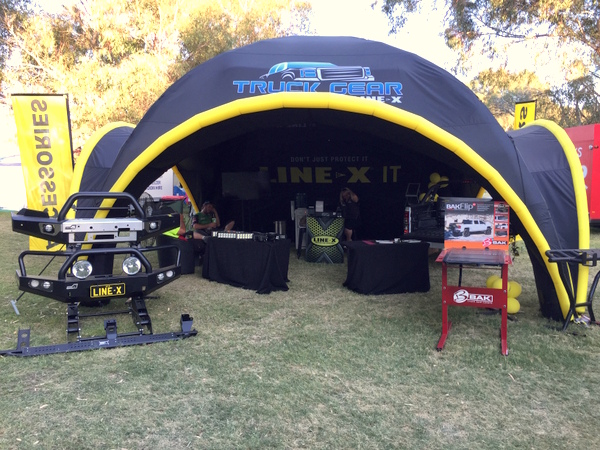 '
Thank you for making this happen on such a short timeframe. Your prompt action, attention to detail, and professional service made the whole process very straightforward, and as such I have no doubt we will be talking to you soon regarding additional equipment.
'
We were delighted to add another satisfied customer to our AXION family of fans.
Read more about
Axion Attractions
and 
why our axion inflatable tents are so right for your next campaign.
Images supplied by 
Line-X Australia 
(
Facebook @LinexAustralia
)