Whether you are an artist, craftsperson, or a professional businessperson, you know that any trade show's success can only be measured by the number of people who come to your tent or stand and the number of sales you make. The competition is fierce, and you can't risk doing the same boring old thing, year after year. You have to stand out among the sea of other participants, who are all vying for the same pool of money.Everybody knows that you first have to cover the basics with an amazing, eye-catching setup and plenty of promotional materials to pass out. From the tent to the signs, to even the lighting, furniture, props and goodie bags—everything needs to well-planned and intriguing—so people will want to find out more about what you have to offer.But in today's world, technology has created even more opportunities to get people involved and excited about your booth. During our work, we at
Stretch Structures
have seen some pretty amazing and effective things being done at trade shows to draw a crowd. Here are our top 5 favorite NEW ways that you can use to make a lasting impression: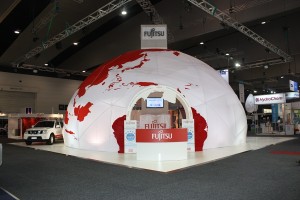 #1 Think Outside The Box For PromotionsBrainstorm and come up with a way to tie something exciting, to something that is relevant to your brand or product. You could have a contest, a game, or even a massage table set up in your booth to draw in event-goers. Offering something fun and unique will not only have people making a bee-line to you, but it will also help break the ice and give people a chance to get to know you and your product or brand. Don't hold back here, and be really creative with it. The sky is the limit! #2 Use Social Media To Spread The WordMake sure all of your fans know well in advance what events you will be attending. And then do something exciting on Facebook to help spread the word even further. Online contests and giveaways tied to the event will help the news spread like wildfire. Be sure to interact with your followers personally, and maybe even give some play-by-play updates as the event is going on to keep them involved and persuade them to come out and join in the fun. #3 Use Foursquare To Promote Your BoothFoursquare check-ins are a great way to spread your booth's promotion to others both inside and outside the trade show. When people check in to your booth with their mobile device, everyone will see it on their social media accounts. You can go even further and offer a promo, like a small prize or discount, to people who check in. As more and more people check in, more people will see what you are giving away on their mobile devices, and they will want to come and get in on the action too! #4 Get Your Co-Workers Or Friends InvolvedJust think how many people your co-workers or friends know personally and have in their social networks, that you do not. Let them know about the events you will be attending, and get them excited about them—maybe even by offering a giveaway or contest that will encourage them to like and comment about your event. Your circle of friends and co-workers can be very influential in driving their friends, families and acquaintances to your booth through their involvement with you on social media channels. #5 Make New Fans Or Build Your Email List With QR CodesIf you aren't familiar with QR codes, they are the funny looking squares with black and white designs in them that people can scan with their smartphones (like the one to the below). Your QR code can direct people to a specified landing page that can either allow them to connect with you via social media or download a targeted offer by giving you their email address.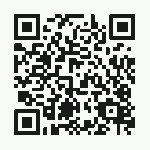 We hope that you find these tips useful for your upcoming trade shows and event this year. And now that you've got the technological side covered, don't forget that Stretch Structures can also help you get the visual side covered, with high-visibility, unique and flexible tents, lighting and décor.
Go to our website now to see how we can make your next trade show or event bigger, better and easier!