Spotlight on our client: Michael Dwyer, Willowtree Stretch Marquees, Australia. (Facebook@willowtreestretchmarquees)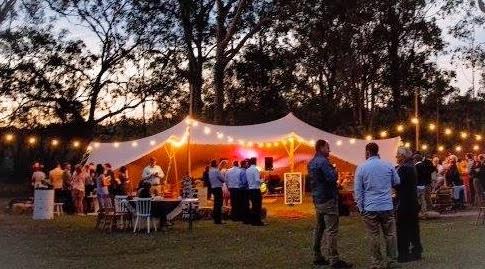 It's not often that we meet someone who manages to have their cake AND eat it too. Well, Michael Dwyer of Willowtree Stretch Marquees is one such person. Not only does he put on a breathtaking display at any event, he also found himself at the top of the aisle, ready to greet his beautiful bride at his latest event. Here's his story:
Willow tree Marquees offer an innovative alternative to traditional marquee hire, suitable for all occasions including weddings, private parties, events and more. They're situated in the Clarence Valley in beautiful northern NSW and service all areas from the Gold Coast to Port Macquarie. Their goal is to create a relaxed, unique environment for their clients, while bringing them as close to nature as possible. They also have a range of festoon lighting and decor options available. They fell in love with their first investment, a 10x15m Stretchflex tent, because of its simplicity and appealing aesthetics. 'The beauty of these tents is that you can design something prior to constructing – a range of configurations are available which is a tad different to heading out and setting up the same marquee over and over again' says Michael. 'It also gives the clients options which is always a winner.'
The Stretch Tent was purchased for Willowtree Marquees and used for Michael and Katie's wedding – the marquees maiden voyage. 'It was great for marketing the business and receiving our first couple of wedding hires,' adds Michael. 'We also recently supplied the tent to a small music festival outside of Grafton NSW called 'Rocktober in the Clover'. This event was situated in the beautiful surrounds of Pillar Valley. We attended the festival and the tent was a winner with them hiring annually from here on in.' Michaels business approach is to listen to his clients and provide Uber-attention to detail. They'll spend endless hours sourcing timber poles to suit a theme as well as finding just the right furniture that works with the decor.
His business philosophy? 'Strive for the goal, but enjoy the ride!'