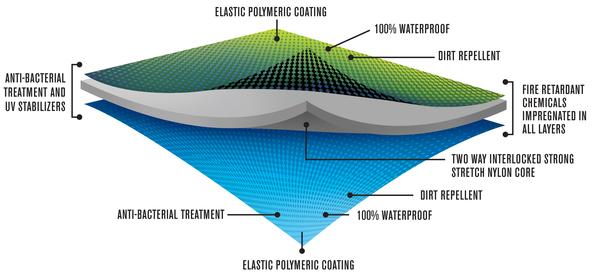 Our secret weapon
We believe passionately in our brand and part of the reason for that passion is the fabric we use – our secret weapon.
Our fabric range contains 2 unique stretch fabrics designed to suit specific structural needs.
Bedouinflex is our premium fabric and it carries a 3 year global waterproofing warranty. The stretch polyamide (nylon) knit is coated with a polymeric PU waterproof coating on both sides and held together with the strongest machine stitched and welded edges and seams. We can also guarantee that the highest international fire rated safety standards are met.
Further assets are: 4 way stretch and memory; 100% full recovery memory; UV stabilized by Fluorocarbon impregnation (colour protection anti fading guaranteed); Non toxic anti-microbial application (viral, bacterial, fungal); a breaking load of 3 ton on any point. It's wind proof up to wind force 10 (100km/h) and water repellent, ensuring quick run off and fast drying times. And almost 35% lighter than it's alternatives.