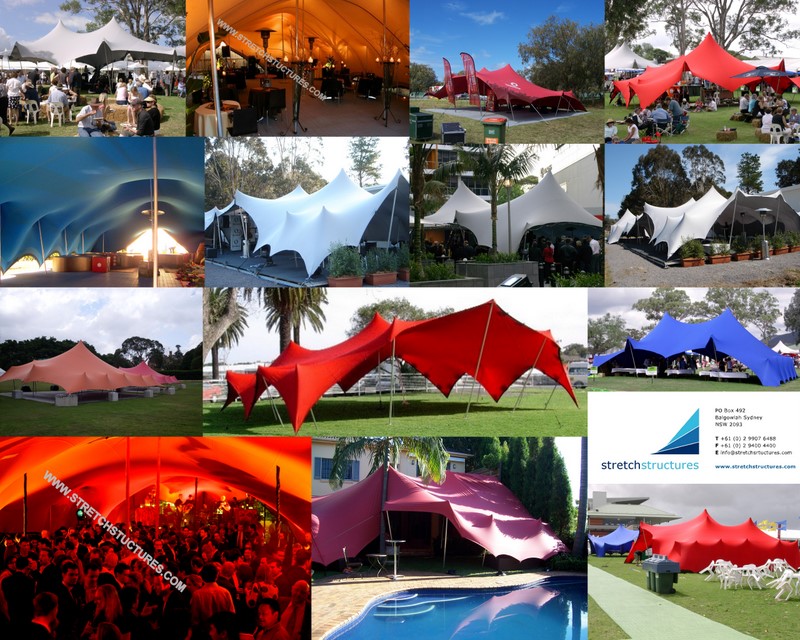 Stretch tents are available in a range of size's and shapes from 4.5m x 6m up to 20m x 30m, however we can custom make tents to fit your individual needs and requirements.
Stretch tents can either be pegged or weighted making them suitable for every type of ground surface.
We have a range of colours – white, silver, light grey, red, blue, green, black, grey, burnt orange, sand, yellow and lime green and we can screen print images or apply full digital artwork to brand the tent and make it work for your business.
The tents are made from 100% waterproof BEDOUINFLEX™ two way stretch fabric. Whilst all seams are both stitched and welded so you can relax in the knowledge that your guests will stay dry, should the weather take a turn for the worse.
BREDOUINFLEX™ fabric is inherently Flame retardant. With built in FR compliant to a broad range of International fire standards.
Bedouinflex fabric is also 100% machine washable and the built in anti fungal and anti bacterial agents ensure that even stubborn stains can be wiped off.
Stretch tents can be installed in a variety of configurations and locations that your ordinary frame marquee would not. These include balconies, rooftops, decks, over swimming pools and as stage covers.
Stretch tents offer a stylish alternative to the existing structures on the market.
We use the name Bedouin, Freeform or Stretch Tents to describe the unique ability to stretch and shape the tent to suit individual sites or client requirements.
Larger stretch tents can have sides up or down with poles repositioned to accommodate numbers and create different shapes. Canopies can be wrapped around trees, rocks, walls and erected with or without poles.
There literally isn't a space that a Bedouin styled Freeform Stretch Tent won't transform into a viable entertainment zone.
The same two-way stretch capacity of our canopies means they can be applied (by way of anchor points) to awkwardly-shaped outdoor areas with dramatic effect and surprising ease.
A canopy will provide full protection from the elements.
For further details please visit our website at stretchstructures.com or email info@stretchstructures.com.