Innovative Eye-Catching Design
The inflatable AXION flower is inspired by nature. The unique design of the FLOWER is sure to grab attention at any event, promotion, or festival. Designed to be distinctive and eye-catching using a freestanding and solid framework.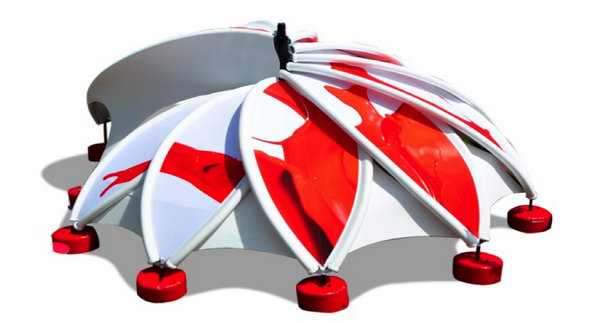 The
AXION flower
is available in three sizes to meet different tastes and budgets.
The
AXION flower
is engineered with a combination of three materials, all fitting within the same high standards you've come to trust from
Stretch Structures
.The shape of the petals is guaranteed by our patented system of high-pressure pneumatic tubes. The tensioning of the petal membrane is achieved with our FR certified, high tech Bedouinflex PU stretch fabric. The weight of the whole structure is supported by the steel components of the central pole and perimeter plates with water ballast bags.
The AXION flower is certified for use in winds up to 100 km/h, and in the case of strong wind the design allows for retraction of the centre pole to decrease total height of the whole structure by 1.3m. 
Stuart Johnstone, Managing Director of Stretch Structures, explains: "We are continually looking to enhance and improve our product range and have responded to feedback from customers who want event and promotional structures that grab customers attention and provide a lasting and memorable experience."
Stretch Structures
offers a wide variety of marquees and promotional event structures to suit a broad range of outdoor events, festivals and promotions.
All products are quick and simple to erect and are designed to withstand climates as diverse as the harsh Australian outback to the challenges of the UK weather.
For more details, contact
Stretch Structures
on
(AUS) Tel: +61 2 8916 6231
(UK) Tel: +44 20 3769 5402    
(US) Tel: +1 213 401 2531    
(NZ) Tel: +64 9 951 9917
or visit our website www.stretchtents.com.au