Where does the year go? It seems only yesterday we were jam-packed with the Christmas rush and now, the end of June is already upon us.
We've had a very busy first half of 2012 and we're expecting that the next six months will be just as exciting. To start the ball rolling we're introducing a new website. You can check this out www.stretchstructurees.com .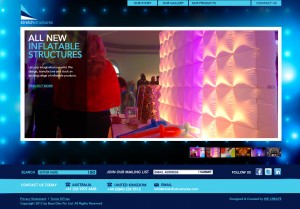 We're hoping that this will allow us to show case the wonderful structures and products that we get the privilege to design and manufacture for you, our fantastic customers. In addition, we've updated and added a news section in order to bring you better/fresher product ideas, and ensure we can keep you up to date on all the new and exciting things happening at Stretch Structures. We think you'll like the new look and we're sure you'll like the improved navigation and fresher information.
It's the innovative and challenging ideas that you present to us that really get us excited and so we're looking to celebrate the start of this financial year with some promotions on our existing product ranges, whilst also introducing some more exciting products to help you get the most from your outdoor events and promotional activities.
So first off we'd love to hear any thoughts from you on our new website. And we'll have updates in the coming weeks to kick off the last half of 2012 with some exciting offers and new products.