Fabric structures have gone from being basic tents used at large events to being a key centrepiece that plays an important role in architecture and ambiance at events and locations.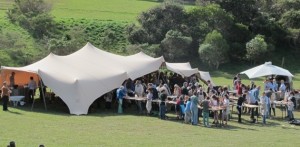 Fabric architecture can change your entire venue from boring to unbelievable in a short amount of time. Gone are the days of limited design and white only options. They have also been manufactured to be waterproof, mould resistant and lightweight.  Keep current with the latest trend for events.  We have provided you with the top five current trends in fabric structures to get you started:
Not just a tent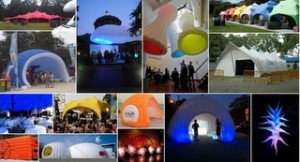 Fabric structures these days are available in a wide variety of types and sizes. These structures are popping up in new places to bring a whole new feel and character to a venue. Rooftop bars are using fabric structures to provide shelter and visual interest to an otherwise empty space, while event planners are getting creative and attaching marquees to shipping containers to create a really interesting, versatile and portable venue option. Fabric structures give you the ability to think outside the four walls of a tent to transform your space.
Beyond basic white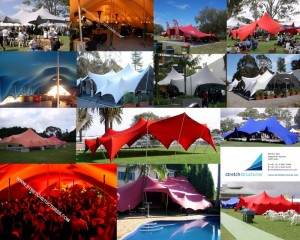 Bright and unique colors are the most popular choice for events right now because they draw so much attention. The color adds the right amount of eye-catching pizzazz and allows for companies to choose a color that matches their branding. Currently, red marquees are a popular option at festivals and concert events. Play with the psychology of color to think beyond white and add just the right feel to your hot spot.
Massive impact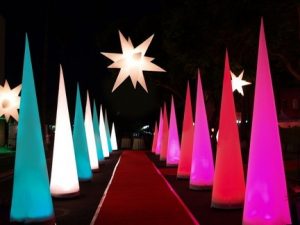 Inflatable structures are the way to go if you want massive impact and exposure. With a wide variety of structures available, you can choose a structure that would suit your event needs. These structures can be branded and customized, plus provide additional options such as illumination for setting the mood for your night event.  Inflatables are particularly popular right now for concerts and big brand launches. The wide variety of options available gives you the opportunity to have fun while creating your event.
Easy does it
When it comes to installation, keep things simple. Fabric structures provide a variety of set-up options that make it easy to fit them into your landscape and design. Many of them can be set up on uneven terrain or existing frames, which allows you to extend an entertainment area as needed without worrying about the landscape. Smaller fabric structures are designed for one person to carry and set up within 10 minutes. Even the largest of structures are now easy to install and designed with quality and ease of installation in mind. Whatever you choose, your structure will give you a variety of design options and are easy to install.
Accessorize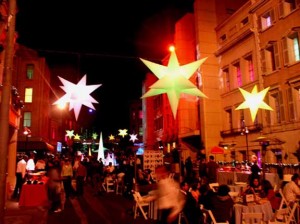 Lights, inflatables, furniture, and movable walls add the finishing touches in your perfect fabric structure. With an array of accessories and the reversible walls, Axion Tents have been very popular lately because they are brandable, versatile and not too heavy. Playing with lights and movable pieces allows you to create just the right look and feel for your event. The options for customization make these structures a popular choice and accessorizing them in a unique way is a trend that will stick around.
Whether you're creating a large road show or adding design to your venue, fabric structures give you the options you need to bring your creativity to fruition. Imagination is your only limit!