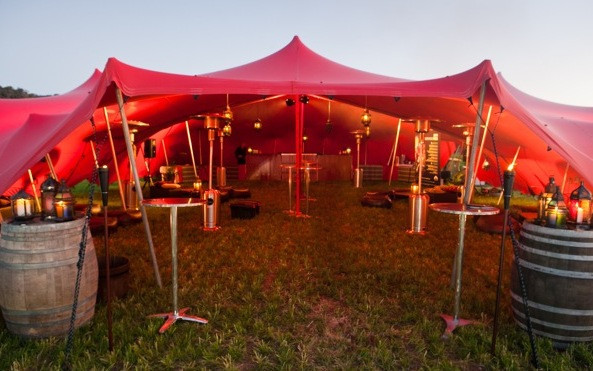 Valentines Day is coming up and boy, are there some fabulous ideas out there! Thinking of a function along those lines? Well, you came to the right place – we have ideas galore! So, our finest and heartfelt recommendation is: start with a stunning red tent! Now, to fill that tent. Let's start big shall we? Lighting equals atmosphere so have a look at our hanging inflatable lights – specifically those flower shaped ones that pack a WOW. We know that it's the attention to detail that really impress guests.
How about these ideas: greet guests with a Valentine Float: cherry 7-Up, vanilla ice-cream and a red liquorice straw, stamp a heart out of those marshmallows, attach a stick and Voila! Keep a Polaroid camera handy and snap shots of guests at the function with a red backdrop. These can be strung up on a line with hearts in-between. Strawberries are the perfect Valentine fruit – create a delicious trifle with strawberries, jello, cream and sponge cake – your guests will love you!
'If it's themed functions you are looking to create, we are able to provide everything from structure, lights, furniture and everything else you'd need to wow your guests.' Adds Daniel Hunt, head of Design & Installation at Stretch Marquees and Fabric Structures Australia.