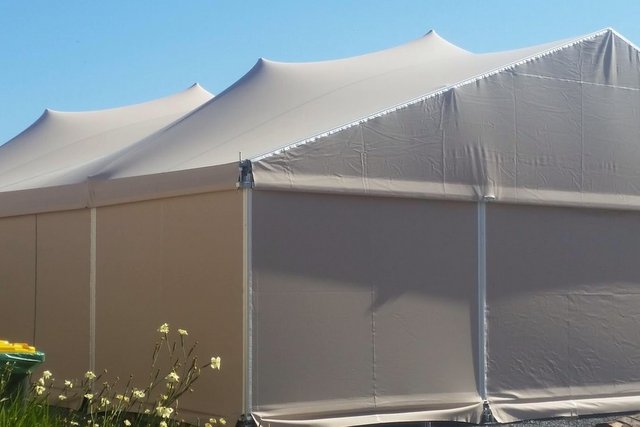 A marquee to be enjoyed for years to come. The reasons? Simple: Our Clearspan Series of pre-engineered fabric structures are lightweight, anodized aluminum framed constructions with high quality galvanized steel connectors, and are suitable for companies looking to hire out to their customers or for temporary and permanent applications.
The choice is yours. A variety of configurations are available to you: Various A-frames, peaked or curved profiles available; widths from 3-50 metres (custom widths can be designed); indefinite lengths in any modular bays of 3 or 5 metres as well as varying eave and peak heights available.
The tried and tested truss system ensures the structures are free and airy: unobstructed room views from inside the tent because there are no centre poles or support columns inside the tent.
These are easy to transport, assemble and dismantle, store and clean.
Get exactly what you want with our wide variety of options including specialized PVC, ETFE and stretch fabric options, doors, windows, lighting, air-tight negative pressure environments and HVAC systems.
More details are available here