How to ensure a successful stretch tent installation
A successful event relies on you, the host, feeling safe and secure with how your stretch tent has been set up. Therefore, consider these hints and tips for a successful stretch tent installation.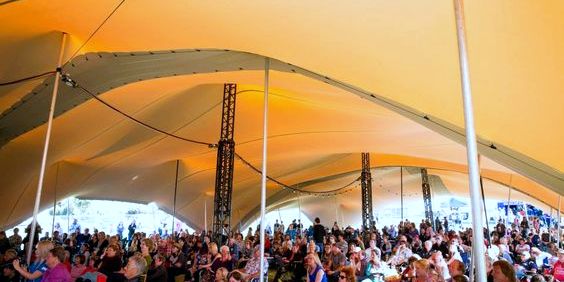 Peg Anchoring
Anchoring your tent with pegs is the cheapest and easiest anchorage method. Check out our accessories here.
Consider the pull-out force, this depends on the quality of the surface (soil type, water penetration) which then determines the incline and depth of the anchor.
Loose soil proves the least resistance and will require special anchors. Special testing and advice is needed in situations like this.

Ballast Anchoring
Ballast anchorage is necessary where ground penetration is not possible.
The correct type of anchors and pole packs are recommended by the manufacturers and should be adhered to closely. These are specifically chosen to combat the maximum uplift force any structure has.
Anchoring your tent to cement and walls may be an option where the owner of the site has provided permission. Read more about fixing a stretch tent to concrete and walls.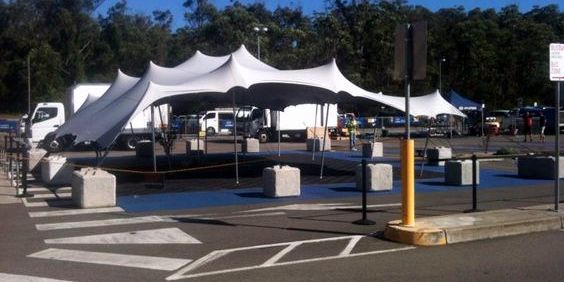 Stretch Tents and Truss
If all of the above anchorage options still don't suit your installation, consider using your stretch tent with truss staging. This is obviously not a cheap installation option, but can produce some eye catching results. Read more about truss and stretch tents.

Pole positioning and angling
Local weather patterns and direction of prevailing winds should be considered when planning open sides and entrances. Gusting winds can cause fabric to lift off the poles.
Heavy duty base plates should be used if extreme weather is predicted. If the security of a central pole is in question, replace with a longer pole and be sure it's securely in place and can't be lifted.
Correct pole placement will create optimal water run-off with no flat areas. Gently stagger the length of the centre poles if there are 2 rows or more with the longest poles in the centre.

Requirement for Engineers sign off
With larger, more complex structures, designs may need to be signed off by a structural engineer to ensure the structures maximum wind resistance and load bearing is met.
These are just a few of the hints and tips for optimal tent installation. For more information, please contact us here or email us at info@stretchstructures.com.