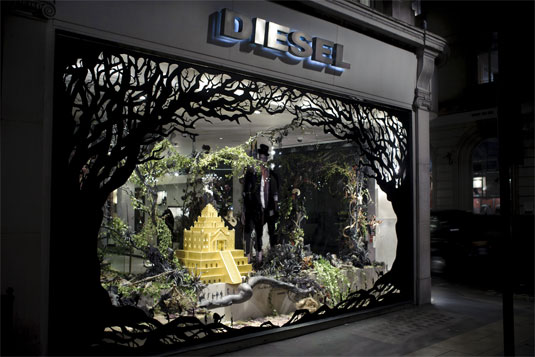 Photocredit: Kyle Bean/Diesel
Think of those hypnotising window displays that houses like Selfridges, Galleries Lafayette, Diesel, Barneys New York create… totally mesmerising right? Now think of achieving that same type of hypnotic effect with your next event. The new trend is immersive marketing puts the guest slap-bang in the middle of a world created to boast the best message for any brand. As they say – first impressions last so make sure your first impression count.
'Engage, captivate, bring two of the most unexpected worlds together and make an impact,' says Stuart Johnstone from Stretch Marquee and Fabric Structures head office in Sydney Australia.
The secret is in the phrase itself: Immersive marketing. Engage and involve your guests in an interactive display that's both captivating and aesthetically pleasing. But, above all, be smart – choose avenues that mix the senses and bring your brand to life.
In this day and age it's necessary, nay, essential to digitise your activations. There are platforms and avenues and ways of reaching your target market where you can communicate your intended impact before your event and remind your guests of the impression you made after the fact.