World Expeditions ground breaking camp sites
World Expeditions have lead trekking adventures on the Larapinta Trail since 1995. They engaged in many years of consultations with traditional landowners and Northern Territory Parks and Wildlife to develop semi-permanent campsites along the Larapinta Trail. Therefore, the key to these campsites is their semi-permanent design using eco-friendly custom tents fabricated using Premium Bedouinflex fabric.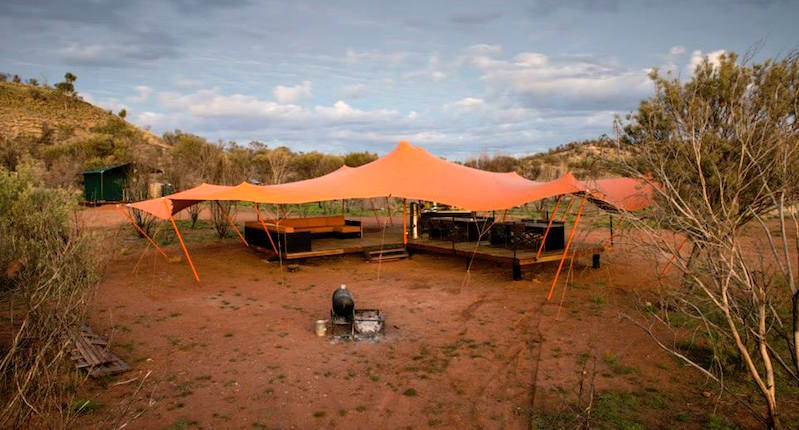 Neeson Murcutt Architects designed initial plans to protect the remote and beautiful land it sits upon. The camps are installed for the winter trekking season, however they are then removed during the summer months to allow the land to regenerate.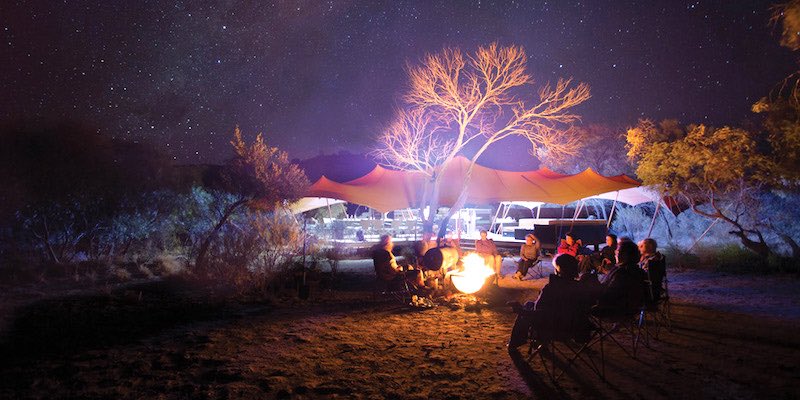 The Camp Network
In 2013 the first two campsites were opened to provide shelter to trekking groups through a series of minimal impact structures. Nicks Camp and Charlie's camp are located within indigenous owned National Park some 30kms and 130kms west of Alice Springs.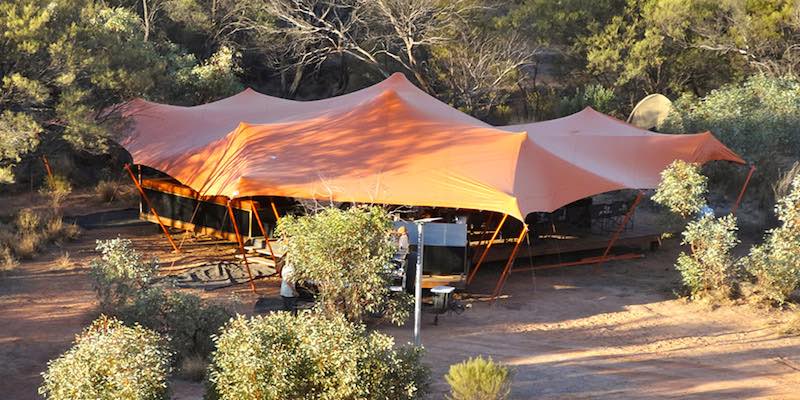 Nick's Camp was named in memory of the campsite's original architect, Nick Murcutt. Nick drew inspiration for the campsite design from Arnhem Land sleeping platforms and Bedouin tents.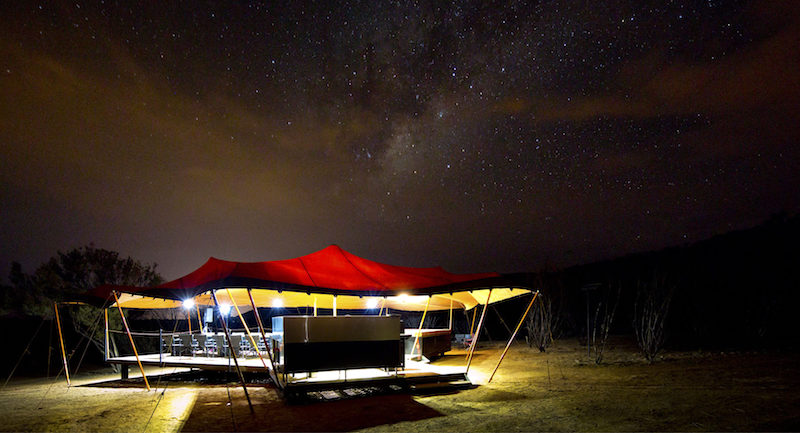 Charlie's Camp was named after Charlie Holmes, a pioneering Larapinta guide and very experienced and successful small group adventure leader.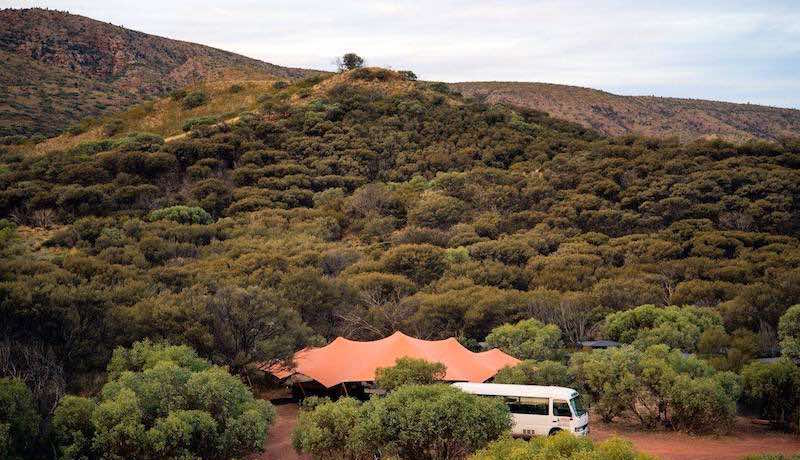 In 2015 Fearless Camp, the third semi-permanent campsite was opened. Designed by architect Rachel Neeson, the third campsite is named in memory of mountain climber and World Expeditions guide Sue Fear.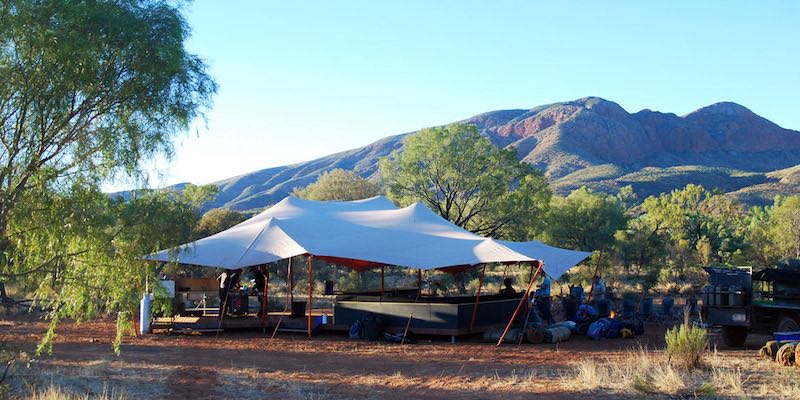 Sonder Camp, opened in 2018 and was named in honour of the grand Mount Sonder mountain. Like it's three predecessors, Premium Bedouinflex fabric was used to prefabricate the 'Y' shaped custom communal tent.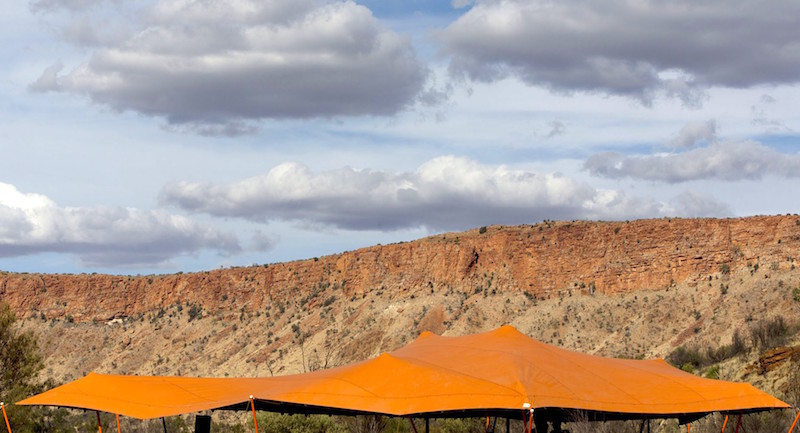 Eco-Friendly Durable Camp Design
Each campsite comprises a shaded communal platform, an ablutions tent and separate shower tents. Trekkers can choose to sleep in safari tents while in camp, or opt to sleep in swags under the stars on raised beds.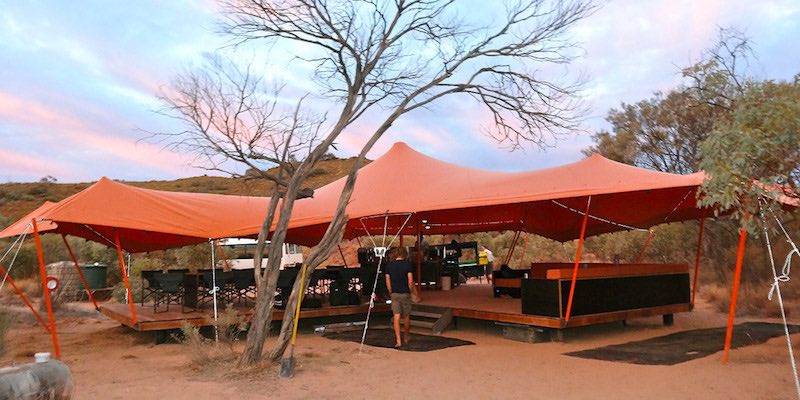 Quintessential to any campsite is the fire. The 'Y' shaped communal tent is designed to embrace the campfire.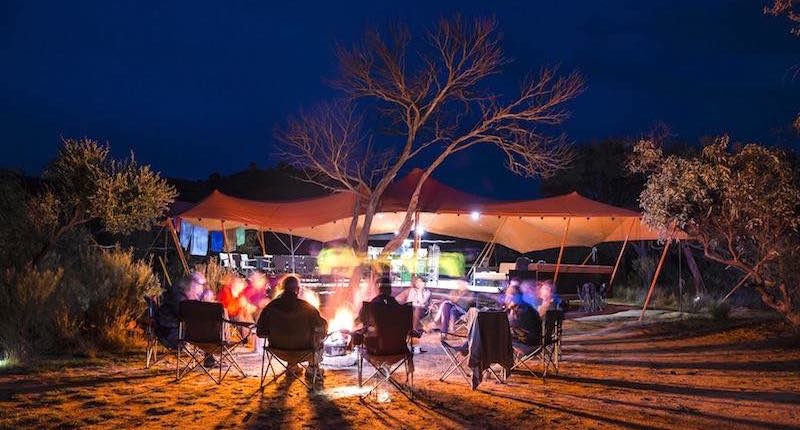 One arm houses the communal dining, the other a lounge, with a food preparation and serving area at the tail.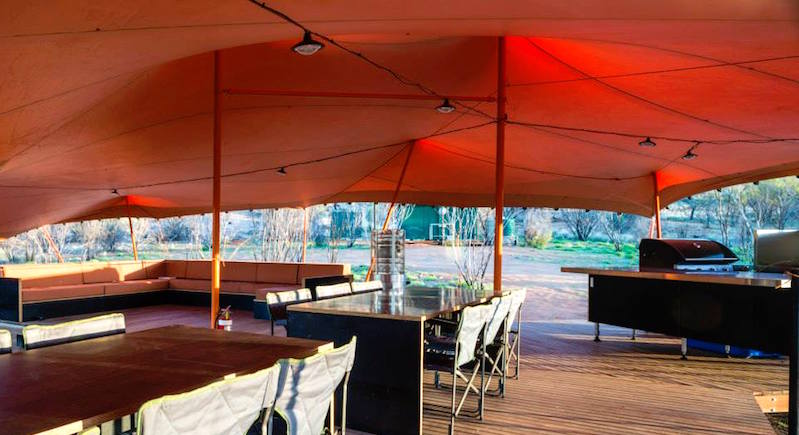 The tent is designed with two components – a raised platform to escape the dust and canopy roof for shelter. The platform is decked in hardwood and the canopy is large and low, stretching over relatively simple post supports, not unlike the Bedouin structures of the Arabian Desert. The stretch fabric, posts and guys are coloured orange like the dusty ground.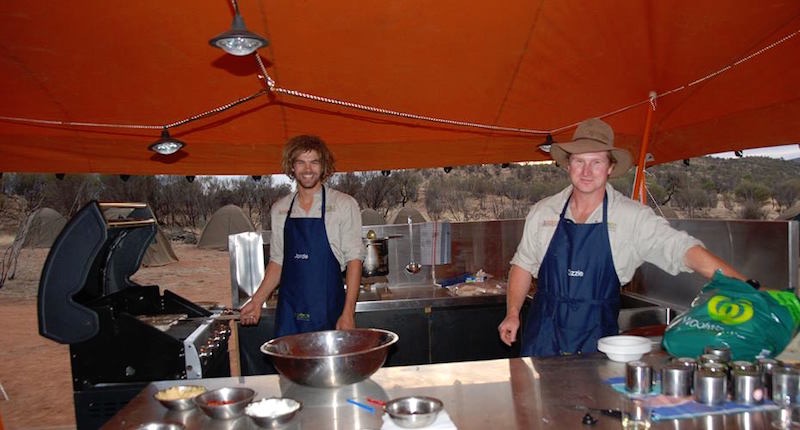 The canopy provides protection from the sun and rain, therefore is adaptable to specific weather conditions. Its edges are generally low, allowing warmth to be retained from gas heaters on the coldest of nights, and can be lowered further on one side or another to protect against a prevailing wind.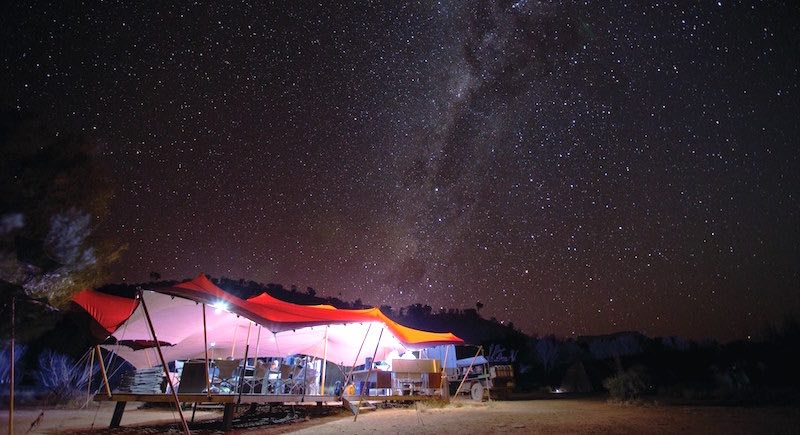 Contact us with your eco-friendly custom tent requirements or click through to purchase Stretch Tents.
All images courtesy of Neeson Murcutt Architects and World Expeditions.