Music to our ears… Music festivals are at an all time high. If it's bespoke entertainment that makes your music festival experience unique and memorable, then these guys are playing your tune! It's at these events that you really see how the event organizers and coordinators have applied themselves.
They've got you covered and have considered all your wants and needs… even those things that you didn't know you needed or wanted! Perhaps one of the first questions those brains behind the scenes ask is: how can we help you make the most of your day? Is it a raincoat you need, perhaps a poncho or a pair of wellies? Or the other extreme – an umbrella or parasol for some sun protection?
Organizers at Soho House & Co, Chicago made sure their quests had all they needed well within reach (as they always do!). Now, if you think about it carefully, what would any faithful visitors need after a long stomp on the dance floor?
The answer: Sustenance! Organizers that provide timely juice booths in the right place get that (grateful) tick of approval. Pop-up sustenance bars with a variety of freshly squeezed juice, sweet selections (jujubes anyone?), potent proteins (nuts, nuts and more nuts!) and rehydrating liquids (ok beer, we mean beer) laid out for easy access is always much appreciated.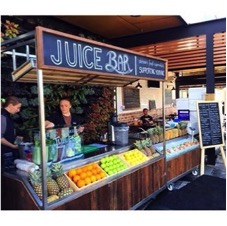 photo credit: ink361.com
No matter how much we like to escape reality while missioning at a music festival, we all still need to be in contact with the real world (be honest now). Wouldn't it be amazing to give your guests the convenience of those standing charging booths like you find at the airport?
Again, conveniently placed, indicated on the site map, just one less thing your patrons need to worry about. The Essence Festival recently went low tech… think circa 1980's: hoolahoops, roller-skates, how about a ball-pool for adults – fun or what? Retro is all the rage – even for the Millenials, those people visiting your music festival who grew up in that era will love seeing the revival and the young-ones will love the education! Low-tech is cool. How about taking it a step further? Set up DIY craft tables, make your own jewelry, paint, sketch, draw – anything to keep devotees entertained between sets.
Innovations abound Needless to say, when you're rubbing shoulders with the cream of the tech-genetics crop, you're bound to be taken to an outer dimension. Bud Light set up a VIP station aptly named the Bud Light Lolla-Scope at Lollapoloza recently, a device that takes pics of you from 360* . If you're looking for something a little more down-home, Pitchfork Music Festival at Goose Island gave their patrons a periscope – stand back, see forward – again, no sweaty armpits!
Now you can only imagine that SXS West know their consumers – they laid out the gym-bunnies dream come true by enlisting Soul Cycle and all their gear and a live DJ to spin while patrons… spin! Imagine your sweet self on day 3 of a stomping music festival – does the image of a muddy rat sound like a realistic description? How about a wash and blow? Clever organizers set up a booth with facilities for a mean hairwash and blowdry for festival goers! Sounds like squeeky clean fun!
Credits: collection of ideas care of BIZBASH.