Stretch Structures create custom structures to suit any site
This year, the
2018 US Sport Aviation Expo
was the venue for
Cruiser Aircraft Inc
to invite customers into  their custom inflatable hangar to view the beautiful SportCruiser aircraft. The giant red arch was a great calling card for all to see across the air field at Sebring, Florida. Check out more pics on
Facebook
.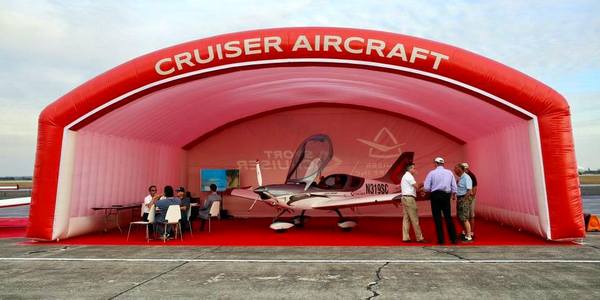 For custom design-build projects, we use a 5 stage process:
Stage 1 – Engagement and client briefing

Stage 2 – Initial design engagement with artists impression to scale with elevations, for client approval

Stage 3 – 3D mock-up on the computer and final pricing

Stage 4 – Pattern and manufacture

Stage 5 – Art work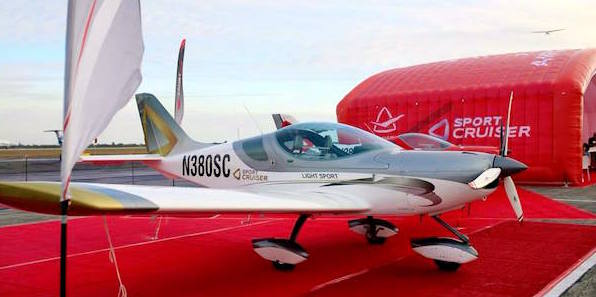 We provide Stage 1 as a free engagement service to enable us to understand the project, determine if we can assist you and provide a broad-based estimate.  There is then a charge of 10%  to proceed with Stage 2.  Payment terms are then 50% to proceed into detailed design and production with the remainder due prior to delivery and installation.
What is and isn't included in the estimated price: 
Full design and engineering of concept structure – included in price.

Surveying the site (where possible) – included in price.

Support frame structure manufactured – included in price.

Fabric patterning and artwork – included in price.

Foundation/Staging installed – not included

Installation – organized crew arrive on site to install the structure

 

– not included
From this information, you should be able to get a good pricing estimate to see if we are in the ballpark. 
If so – next steps:
A design meeting to set the scope and define the design brief.

Get confirmation of intent through 10% deposit

Start design drawings and engineering and firm up on a fixed price.
There are a broad range of options for structures including but not limited to:
Installation Services – Training or Activation (via a third party)

Flooring (broad range of options including integrated flooring)

Coloured Fabrics

Branding – full colour CMYK + White digital printing

Internal fit out

Truss Support System

Ballast Systems – Internal or external options

Lighting

Blower noise reduction system (for inflatables only)

Road cases/stillages
Contact Us
 to discuss your options.Images supplied by 
Cruiser Aircraft Inc
(
Facebook @cruiseraircraftinc
)