You know the drill – New Year, New You – right?
Let's cut through the clutter and get down to some meaningful changes that could make 2018 the year you've been waiting for!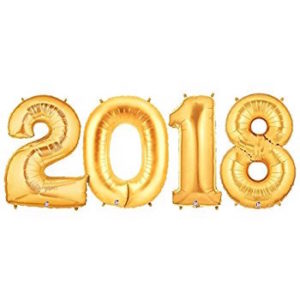 1. Deep Clean – clear out the clutter from your life, your workspace, your home, even your car. Starting with a clean slate is like a breath of fresh air for the soul.2. Start with eye contact – it's a small gesture and it's free! Making eye contact with whoever you are dealing with works to engage that person and reinforce the human contact that is so sorely missed in the (device ridden) world today.3. Psychology Today's
Linda Esposito (LCSW) from Anxiety to Zen
says to concentrate on:
the big 3: quality sleep; lots of water; slow, deep breathing
smile more – it helps lower heart rate
talk less – sometimes silence speaks volumes!
4. Have you heard of the 80/20 Principle? It's author,
Richard Koch
, and entrepreneur 
Bob Skinstad
have joined forces to teach the principles of this workplace and life philosophy: 80% of the effects come from 20% of the cause. They'll share skills to translate your talents and abilities to achieve success and get the most out of your productivity. Check it out at
richardkoch.net
5. That segways perfectly into our last point – call in the experts. Whatever area you are concentrating your efforts on, don't forget to call on those experts in their field. Looking for the best structure for your upcoming event? Call on
Stretch Marquees and Fabric Structures
to advise and guide you when it comes to finding the perfect structure for your needs. We know what we're talking about!