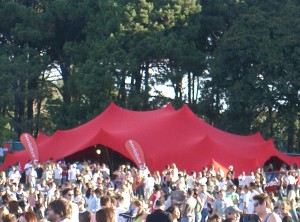 Planning an event can be stressful enough, without having to worry about contingency plans. Utilizing stretch structures for your event eliminates the worry and can save your big day from unforeseen disasters.
The best way to avoid a disaster from ruining your event is to plan right from the beginning. Here's how to amp up the volume and save your big day with stretch structures:
1. Décor
When planning an event, one of the first things people think about is how they want it to look. Bringing in a lot of décor can be costly, as well as a hassle. The many styles, shapes, and colors of stretch structures available, give you the chance to see your dream design come to life.
Whether it's using the Freeform Stretch Tents or Clearspan Stretch Pods, there is a stretch structure that will add that extra pop to your event. No last minute additions needed. The pizzazz and pop are already there!
2. Weather
Planning for bad weather is an absolute must. Utilizing a stretch structure from the very beginning cuts down on those last minute contingency plans and stress of watching the weather map. Whether it's sweltering heat or pouring rain, these 100% waterproof, UV resistant tents are critical to keeping your guests happy. Keep the focus on your event, not on the weather.
3. Cost
Much like the weather, sky-high costs and last minute surprises can really rain on your parade. We work hard to make our structures affordable and our pricing transparent. We know you have enough to worry about when planning your event. That's why our upfront pricing quotes outline exactly what you'll pay, without any last minute surprise costs. The fact that you'll get great décor and weather-proofing is just the icing on the cake.
4. Time
Planning for an event takes up an incredible amount of time. We like to help you put your minutes to good use with a one-stop shop. We are more than just tents. Did you know we also offer furniture, lighting, and sculptural products? Not only do our structures offer you the décor you're looking for, but our fun additions ensure you have everything you need for your big day.  No more running around town to gather everything you need, you save time by dealing with one contact, one set-up crew, and one price.
We know that unforeseen events can ruin your big day. We also know that working with us can save your event from many last minute headaches and keep the focus where it should be. With stretch structures, your imagination is your only limitation.
Contact us today to get started.