We're happy to say that the need for our structures to be used on a permanent and semi-permanent basis is growing.Although we're not quite at the stage where we can safely recommend leaving them out in a deep northerly (snow filled) winter, we are happy to report that one of our more successful semi-permanent structures is enjoying ongoing success and it tickles us with pride!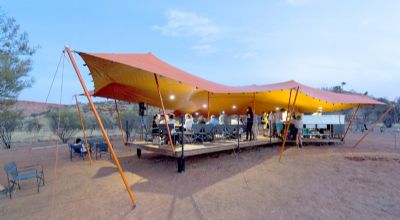 Two campsites along the Larapinta trail were developed with
World Expeditions
to provide shelter and comfort to their trekking groups through a series of minimal impact structures. It was part of a strategy to broaden the profile of guests, whilst maintaining authenticity – you are still camping after all!The campsite arrangements are influenced by the particularities of each site, but bound by the elemental issues of existence in such a remote environment. Each campsite comprises a shaded communal platform, an ablutions tent with two toilets, and two separate shower tents.Sleeping is in swags, either out in the open or sheltered within smaller off-the-shelf safari tents.
Unoccupied throughout the hot summer, the camp is 'packed down' and remains as a series of enigmatic relics in the landscape, designed to withstand the toughest of desert conditions.Check out our latest projects
here