AXION is the modern go-to structure!
So … you love to get out there and engage with your audience about your brand. And you're on the move. Maybe you're visiting a sporting event, maybe it's a festival.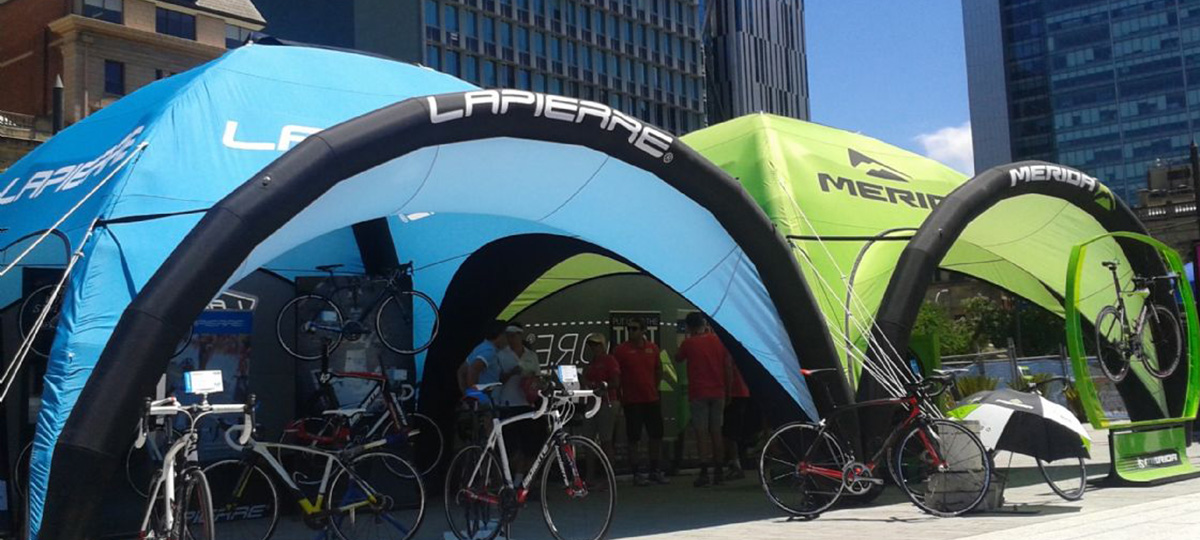 We know what hard work that is! And as much as you love it, we know what a hassle it can be to pack everything up just to reset in the next location for your roadshow.
That is why it is so important that you find a solution that's:
fast,

easy to use, and most importantly…

still able to represent your brand well.  
We have the right product for you!  You need to get yourself one of our Axion Sealed Inflatable Marquees. These tents are perfect for your next campaign and have been used by some big named brands such as Nike, Samsung and BMW for their roadshows.

Our Top 4 Axion Features
1.            Built for all Weather Conditions
Just like all of our top-quality products, these inflatable tents are built to withstand all weather conditions.
They are waterproof,

UV resistant

Can withstand wind speeds up to 70kmph.  Regardless of the event, location or weather conditions, you will be protected and your tent will measure up.
2.            Built for Easy Transport
Because your brand is out in front of the public and you need to travel to meet your audience and build brand awareness, we know that something that is easy to transport is a top priority. These tents are:
between 25 and 50 kg

come with a matching backpack or transport bag, depending on size. It's everything you need to pop up shop, without compromising on being different and contemporary.
3.            Built for Quick, 10-Minute Installation
With such a well-made, funky looking tent, it's hard to believe that they are so lightweight and so simple to install. Axion tents can be set up and taken down in ten minutes by a single person. 10 minutes! They also don't require constant access to electricity or blower fans to keep them standing throughout the event, which means not only is it easy, it's whisper quiet inside the tent for your event.
4.            Built to your Specifications and Fully Customizable
The Axion range of inflatable tents are available in five sizes and three models.

The wide variety of colors and fabrics ensures you get the best look for your brand and a tent that meets your specific needs and event requirements.

The broad range of accessories such as connecting tunnels, visors, side walls, floors, ballast bags, and LED lights gives you the option to configure a unique look that makes you stand out against competitors.

Reinforce your message and brand by putting your logo on the tent for that extra punch. Customers will not be able to forget your professional and fun presence.
Our Axion Sealed Marquees are a great solution to your event dilemmas and campaign question marks. They make getting out there easy so you can focus on your customers and your brand. Convenient, flexible, customisable, and reliable.
Contact us today to discuss your needs or order your own Axion Inflatable Marquee online.